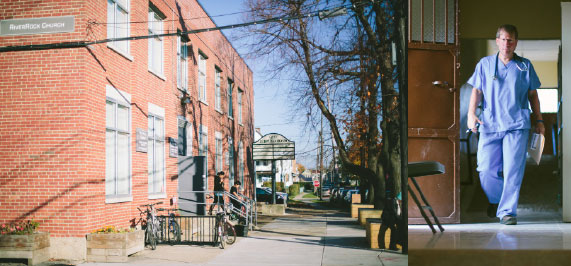 Our Mission
We care for our communities and advocate for systemic health equity in order to demonstrate the unconditional love of Jesus.
Our Vision
Our vision is for individuals, families, and communities to become healthy and whole.

Dr. Myron and Joyce Glick opened the doors of Jericho Road Family Practice (JRFP) at 184 Barton Street on Buffalo's West Side. Their goal was (and still is) to provide excellent medical care to all who walk through the doors, regardless of their ability to pay. In addition to serving patients from Buffalo, JRFP began caring for a large number of refugees, many of whom had never seen a doctor or received proper medical care before coming to America.
The Glicks recognized the connection between physical, mental, and spiritual well-being. Providing excellent medical care was not enough, but a medical practice with limited resources could not do any more. So, as an expression of the heart behind the medical services, Jericho Road Ministries (JRM) was born. Founded in 2003, the ministry sought to demonstrate God's compassion for every person by fighting poverty at its roots, coming alongside JRFP to address the non-medical needs of the community. JRM developed a wide spectrum of programming, from mentoring pregnant refugee mothers to helping clients navigate Social Services to providing interpretation support.
In 2004, Jericho Road Family Practice also opened a second medical center on Genesee Street, in order to serve more patients who previously had limited access to quality medical care.
In July of 2009, JRM merged with Hope Refugee Services, which strengthened both agencies and further expanded essential services. The board of JRM then voted to unite with JRFP in order to serve the community more holistically and sustainably.  In September 2013, the two organizations officially merged into one 501(c)3 organization: Jericho Road Community Health Center.
A few months later, Jericho Road received designation as a Federally Qualified Health Center (FQHC). Community Health Centers have served as our nation's healthcare safety net for the past 45 years, providing comprehensive, culturally competent, quality primary healthcare services to vulnerable populations. This FQHC designation has allowed Jericho Road to further expand its services and provide more integrated, comprehensive care to over 17,000 patients across the City of Buffalo.
Jericho Road acquired Vive La Casa, a 30-year-old organization located on Buffalo's East Side, dedicated to providing safety, shelter, food, and legal assistance to those who wish to make a refugee claim in Canada or who are seeking asylum protection in the United States. Today, the program is called, simply, 
Vive
.
Jericho Road opened a third health center in Buffalo at 1021 Broadway, located in the heart of the Broadway-Fillmore neighborhood.
Jericho Road had a big year! A new clinic was opened within Buffalo City Mission's new facility, mainly providing primary healthcare to men and women experiencing homelessness. Also in 2020, Jericho Road's work in Sierra Leone expanded with the opening of a new clinic in the village of Komao in Kono District. Finally, the organization began providing dental care for the first time at Jericho Road Community Health Center Family Dental, located in its building at 1021 Broadway.
Jericho Road had another big year, opening JRCHC Pharmacy @ Broadway (located inside 1021 Broadway) and two new health center locations at 21 Doat Street (which replaced the Genesee Street location) and 182 Breckenridge Street. The Breckenridge clinic houses Jericho Road's
family medicine residency program
 and provides the same services that can be found at other Jericho Road clinics.